It supports planning and execution of projects and other collaborative works visually based on the communication point of view and the results point of view. They are quite different point of views from conventional time based tools like Gunt Chart based ones.
It focuses on required communications and collaborations to perform the objective of the work and the project.
You can understand what you are lacking to perform your work by viewing the Communigram.
The Communigram facilitate the autonomous plan.

Define results at first instead of tasks to plan a project.
Big black disk means a supervisor and normal black disk means a member.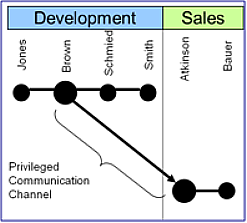 Define the supplier of the deliverable and the client of them. (Client-Supplier relationships.)
The Arrow creates communication channel between the supplier and the client.
You can manage projects in different organizations in the same manner with projects in same organization because you can define cross-sectional relation between sub projects.
Conventional Bar Graph and Gunt Chart are generated automatically from the information entered in.